Category: Quote of the Week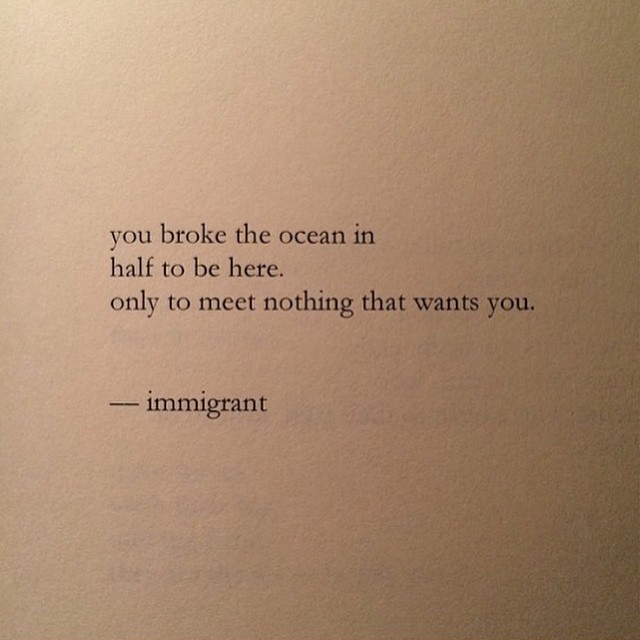 I think this is a powerful quote from poet and artist Nayyrihah Waheed completely validates my immigrant experience. We often speak about the contributions of immigrants to the U.S. but not enough is said about how we actually get treated once we have sacrificed everything to be here. It almost makes the sacrifices not worth it. I personally don't think it is a fair exchange, but others who have fled persecution in their home countries, and found sanctuary here, feel differently.
What does this evoke for you?
P.S. If you haven't already, I highly recommend reading salt, milk and honey and anything else that Nayyrihah Waheed has put out in the world for us to heal.
On fear: Focus on believing in yourself. Everything else falls into place.
When you give people the power to set time-lines on your life, you lose.
Fear isn't a sign of defeat necessarily. But having that fear dictate your actions or inaction is certainly defeat.
On race: Yay for Black History Month. Isn't it so great that all the minorities get their own month here? Nothing like a month to make us feel equal.
We can give away months to minorities, but whitey still owns the calendar!
On change through new media: Most social change is the not-so-novel idea of one person fueled by the actions of many in various mediums.
On borders: Borders are human-made, geo-political constructions that should neither necessitate the deprivation of basic human rights nor cast people as outsiders. In our world, they function as a specific form of colonial domination that necessitates the delineation of an inside and outside, the marking and categorizing of certain bodies as alien and foreign for specific political purposes such as the "national security" project.
There will always be immigrants. A human can work the same job in Ciudad Juarez, Mexico and El Paso, Texas and make six times as much money on the north side of the border. That's six times as much food in a baby's mouth, six times as often that a family can run hot water and possibly the opportunity to invest. Some say immigrants, especially guest workers, become fourth class citizens. But they are often sub-castes in their own countries, invisible to the oh-so-keen eye of the developed world. Some say it robs developing countries of their skills and talent. But more people bring home skills and know-how than leave permanently in the "brain drain." Lastly, some say it promotes dissolution of families. Love, however, is a little tougher with empty stomachs and untreated infections.
Or family need no longer mean a nuclear and extended unit sharing the same geographical location. In this world of globalizing communications, from Vonage to facebook to twitter, 'family' also means exchanging a few words with someone 3000 miles away and feeling connected through conversation, not necessarily building beer bellies.
Whole article is at the University Wire.