Alright, so many if you want to know how it was to be back in Fiji, what we all did, where we went, and curse us for telling you about the wonderful, life-changing times we had while we were there.
We landed at Nadi International Airport on Sunday morning. The air was fresh and crisp–though it would soon be replaced with the smell of burning things so characteristic of Fiji.
When you land in Fiji, you've to buy the duty free alcohol at the airport before you head out to the wonderful tourist islands. The price of alcohol on the Mamanuca and Yasawa Islands is outrageous–though Fiji is still relatively cheap as a vacation spot, when compared to the Caribbean and other islands in the vicinity. Nothing beats Bounty Rum though: It recently won Best Rum in the World. And at $35 FJD for a large bottle, you cannot go wrong.
You should also buy bottled water before heading anywhere off the main land. I am principally against bottled water, and tap water is fine on the main land, but you do not need to get sick while on the offshore islands. Bottled water is also quite cheap in Fiji, and they have local alternatives such as Aqua Pacific to the awful FIJI water.
Despite the relatives belatedly imploring us to stay with them, we had booked a couple days at one of the tiny, off-shore islands that I had visited as a kid: Beachcomber Island. Owned by an Irish businessman, Beachcomber has a reputation for being a party island. The cost for a beachfront bure for a couple days was reasonable, so we settled on it as a way to recover from jetlag. Other reasonable islands in this group include Bounty, and Treasure Island.
It turned out to be an excellent choice. Getting to Beachcomber was not hard from the mainland. We were greeted with the customary Fijian song and dance, and checked in to our oceanfront bure without any problems. Then, we slept off the jetlag.
The view was gorgeous, especially since it was not even one of the better islands. We could walk around the entire island in 10 minutes. The water was also warm, even though it was technically winter in Fiji. We had access to water sports activities such as snorkeling, jet ski, tubing, and parasailing, at an additional cost. We really wanted to go parasailing, however, it turned out that the boat was in repair.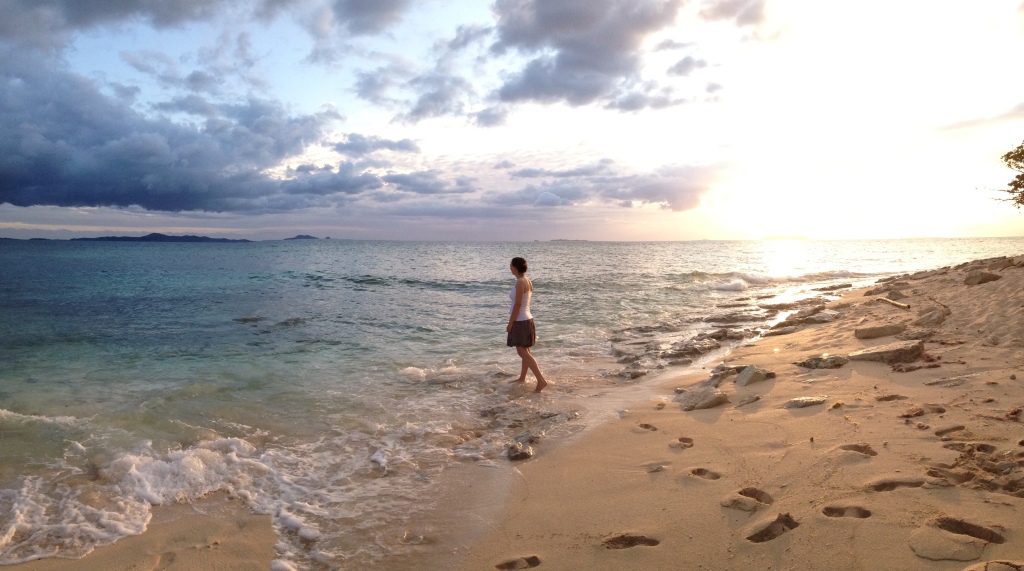 The highlight of our time at Beachcomber was the wild kayaking to an isolated sand bar a couple kilometres from the shore, in the middle of nowhere, at sunset. Of course, it was my partner who proposed this. Video forthcoming. The kayak trip gave me some ideas for my scuba gear product reviews website.
Beachcomber was an excellent starter choice to recover from jetlag, as I would find out later, because staying with family on the mainland would have led to certain death by alcohol poisoning.
Next up: Our adventures on the Coral Coast
Speaking from personal experience, I'm sensitive to the fact that many of my friends, clients, and community members are practically trapped in the United States, unable to visit their home countries, unable to see loved ones, and even attend their funerals abroad.
But going back to Fiji, my home country, is all I've ever wanted to do, and I'm happy to say that I'm finally doing that this coming month!
We'll go from Nadi to Port Denarau for some island hopping in the Mamanucas, along with watersports such as parasailing, kayaking, diving and snorkeling at some of the most gorgeous sights in the world.
Next, we'll return to the glorious Coral Coast, walk around Natadola beach, go on some eco-tours along the Sigatoka river, enjoy local food in Sigatoka and spa outings. We'll also do some kayaking and snorkeling here.
After that, we're headed to the capital city, Suva, where I grew up. I'm really looking forward to this leg of the trip, seeing old friends, walking along the waterfront, doing some essential genealogical research, and catching some movies at the local Village Six like the good old times.
But it doesn't end there. After recharging in Suva, we're off to the garden island of Taveuni! I've never been to Taveuni, and it looks like a complete treat. We'd love to meet new people here as well, and get to do some adventurous hikes. I also hear that Rainbow Reef, accessible from Taveuni, has some of the best coral in the world, so diving here is a once in a lifetime opportunity. I'd also love to go to Nanuka island, and Savusavu, though I may have to postpone the latter for next time.
After that, we head back to Suva, for some more downtime, and amusement, since the election circus will be heating up during this time.
Then, we'll probably head to my home-town to see family.
It's going to be spectacular!