Today, I walked in and out of one of the easiest I-130 interviews at the United States Citizenship and Immigration Services (USCIS).
Heterosexual or not, standalone I-130 interviews are rare. They are typically given when the foreign national spouse is in removal proceedings or deported from the country. The purpose of the interview is to establish whether the petitioner and the beneficiary have a bonafide marriage. Usually, the interviewing officer is checking for marriage fraud. Because only an Immigration Judge (IJ) has jurisdiction over issuing a green card to someone in removal proceedings, the USCIS performs the first step to ensure that the relationship between the petitioner and beneficiary was not entered into to gain immigration benefits.
After the approval of the I-130, the applicant has two options if they want to proceed with getting a green card. First, an applicant can go back to court and file a motion for adjustment of status, and get a new hearing date from the IJ. Second, the applicant may file a motion to terminate proceedings and if granted, proceed with adjustment of status at the USCIS.
Several things played in our favor, especially as a same-sex couple. We had a symbolic, public wedding ceremony after Section 3 of the Defense of Marriage Act (DOMA) was overturned, which gained a lot of press attention. As we were walking out, the interviewing officer told us that it was not every day that she met couples who had newspaper articles written about them.
Second, I prepared the initial application, and made sure to augment the forms with enough bona-fide evidence of our marriage including our  joint leases, shared bank account statements, photos with narrative history, magazine and newspaper articles. It hit the right spot. Today, we augmented it with joint health and dental information, cheap life insurance for parents over 50, voided check with our names, more shared bank account and credit card statements, and evidence of our shared gym membership. I had a photo album with recent photos and scrapbook, but there was no need for that.
Third, I requested ICE attorneys to use prosecutorial discretion in expediting our I-130 adjudication as set forth in an August 10, 2010 memo, Guidance Regarding the Handling of Removal Proceedings of Aliens with Pending or Approved Applications or Petitions. Under normal wait times, an I-130 standalone application takes 11 months to process. To their credit, ICE attorneys on both sides of the country returned every phone call and email, and granted my request to expedite by changing the venue of removal proceedings, sending my A-files across the country, and setting us up with an interview within a month.
Here are some of the questions that the USCIS interviewer asked us today:
Biographical: Names, addresses, date of birth, place of birth and whether we had ever been married before;
How and where we met?
When did we start dating?
When did we first move in together?
Who proposed to whom?
Where did she propose?
Who came to the official wedding ceremony and how many people were there?
My partner, Lindsay and I, walked in at 8:03 am with a mutual lawyer friend, and we were done by 8:10 am. The interviewing officer said she would look everything over once more but anticipated approving the application.
Update: The I-130 was approved the same day.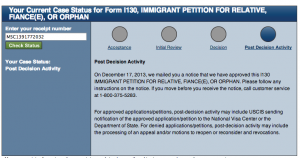 As icing on the cake, I just received my work permit renewal in the mail, valid until January 2015.
Judging by this red carpet treatment, one would think the U.S. immigration system has no flaws. Alas, my many years of experience as an undocumented immigrant and an immigrant rights advocate tells me otherwise.
(This post is a mere restatement of my experience and does not constitute legal advice and does not create a lawyer-client relationship. Please note results may, and very often, vary). 
This one should outrage every American taxpayer.
She served jail time for a conspiracy to commit marriage fraud. She had a detainer placed on her by ICE, so after she was done serving this time, ICE came to the jail and took her to Fairfax, VA to fill out paper-work on September 18, 2008.  She insisted that she wanted to leave as soon as possible and ICE happily agreed to expedite her paperwork to make sure she would be home by her birthday on November 15. They released her with an ankle monitoring bracelet and all was well. Or so they thought …
Her husband reports:
Almost immediately (the next Monday), we hand-delivered my wife's passport to ICE, as they told us the lack of this document is the only thing that could prevent her from leaving quickly. And then we waited.  After a couple weeks we became a little worried that we're still here, and so I started calling ICE.  Every day, I called and left messages and even started begging for someone to please do something, as we want to leave.  And we did want to leave.  I had quit my job, and we were coasting on whatever money I saved up for our new life.  The longer we wait, the less money we had. But wait we did.  And then we waited some more.
Why all the waiting? Oops, looks like ICE changed its mind and wanted her back in jail. Why? Well, she certainly was not a flight risk anywhere but back to Europe. They came to get her and put her in detention, not that they knew what they were doing.
None of the ICE people that came to my house really knew what was going on, they didn't know why they were taking her, nor did they really know who she or me were but they knew they were there to take her.  We knew that she was finally flying to Europe, with me right behind her.

Next day she called me up from River Road jail.  She said they told her nothing.  The day after that she calls me again.  They told her nothing.  Same thing the next day, and the day following.  But eventually, ICE came and took her again to Hampton Roads Regional Jail.  Again, they told her nothing.  Next day, nothing, and eventually the next week: nothing.  Through this whole time, I was calling ICE every day and the only information I could get was "we're getting her flight together".  When I asked why they took her to jail, I was calmly explained to that it doesn't really matter, because she is supposed to be in jail anyway.
Interesting evasion of the questions. Why release her into his custody when she is supposed to be in jail? So her husband buys and delivers an actual airline ticket on December 1, 2008 to the Fairfax, Virginia office and the real truth comes out.
The flight was for Nataliya Chorna, on Dec 18.  I also asked to speak to her case officer.  He wasn't there, but "he'll call you".  They also took the ticket and said "it should be fine".

Two silent days went by and so I drove to the ICE office again, and asked them what's going on.  They checked the computers, and told me that on Dec.1, they sent the application for my wife's travel documents to her jail.  "Why does she need travel documents?  You have her passport…"

"It says here it was misplaced."
Misplaced seems to be an euphemism for lost when it comes to ICE, as the husband later realized. Still, he worked hard and got the Ukrainian consulate to provide travel documents granted that ICE sent in the application. What happened next?