He broke down in prison
Sobbing his dad left when he was little, his mom more recently
He did not have a home to go back to
And perhaps, that's partly why he was ensnared in the captivity
Of modern-day Gestapo
It cut through my core,
Teared at my flesh
Blood poured
My façade of being an attorney,
Disappeared
I felt deeply the pain of wounds that have never healed.
Migrant displacement is real
I feel it daily
I don't have a home
To call my own,
I just have to work
On improving the home of those who took mine from me.
But this time it will be different
I told him I'll build him a home
Brick by brick,
people by people,
I'll build him a community,
And we did.
Someday, maybe I'll build myself a home
That isn't just in the warm embrace of
undocumented people
That isn't just in the collective pain and trauma
of our community
But a place we can call my own
Without papers, without fear.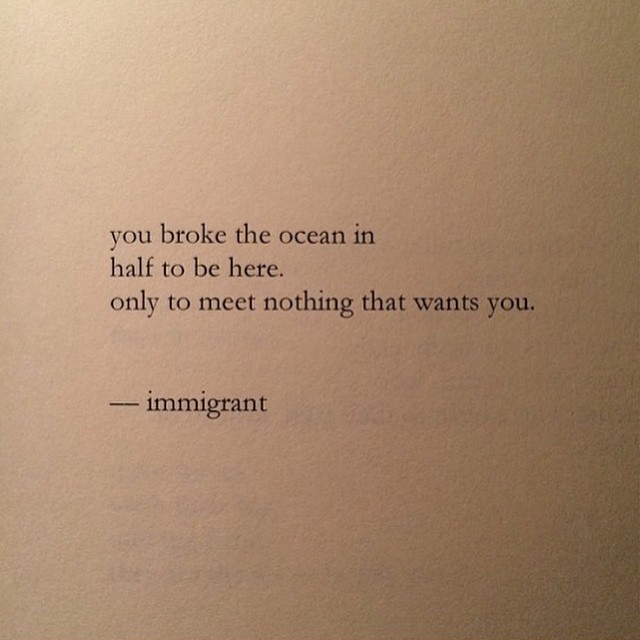 I think this is a powerful quote from poet and artist Nayyrihah Waheed completely validates my immigrant experience. We often speak about the contributions of immigrants to the U.S. but not enough is said about how we actually get treated once we have sacrificed everything to be here. It almost makes the sacrifices not worth it. I personally don't think it is a fair exchange, but others who have fled persecution in their home countries, and found sanctuary here, feel differently.
What does this evoke for you?
P.S. If you haven't already, I highly recommend reading salt, milk and honey and anything else that Nayyrihah Waheed has put out in the world for us to heal.
Today is a very special day. It was four years ago, today, that the U.S. government initiated removal proceedings against me.
I am not only here–but now I have lawful status, and on an expedited pathway to U.S. citizenship.
(This does not stop people from sending me hate mail, which goes to prove the 'we support legal immigration' movement is a sham).
When I was put into removal proceedings, I felt a certain sense of relief. Finally, instead of living in the perpetual limbo of being undocumented, someone would make a decision on my case, and I could pick up on living life again. Finally, I may be able to go home, and restart my life from when it had ended. I truly felt like I had nothing to lose and everything to gain.
Americans are incensed by this. Of course, there is something to lose — your family, your community, and your life in the United States.
True, perhaps there is some loss there. But my great-great-grandparents were resilient people. And they passed on this resilience to the generations after them. They were taken from India to Fiji, as indentured labourers. Certainly, they must have lost a lot in that migration. Their culture, family, caste, and way of life.
Somehow, people also forget how much we lost, similarly, in moving here. That sense of loss does not go away with capitalist accumulation. Loss combines with isolation because the U.S. is such an individualistic society where everyone is so steeped in the rat race to nowhere, and worried about money.
People in the U.S. don't smile and say 'Bula' when you walk down the street. We do not talanoa with our co-workers. Our neighbors do not know our names.  If they know our names, they cannot pronounce our names. And they cannot seem to fathom the concept of an Indo-Fijian, much less a queer one.
Integration into this society is unpaid emotional and mental labor, and in the U.S., the emphasis is on assimilation, not integration. My integration was also hampered by the decade that I spent being undocumented. There was no instate tuition. No ability to drive. No health access for counseling or basic check-ups. No financial aid for college. No law licenses for undocumented lawyers. No white-collar employment. No ability to travel abroad. And certainly no programs like deferred action to enable any of the above. We had to work hard to make all of these things possible. I had to personally fight and win these battles.
It all draws me towards the conclusion that migration isn't beautiful for a lot of immigrants. It is devastating to leave everything and come to a new country to start over again. Feeling completely displaced and lonely. Constantly feeling threatened, scrutinized and under attack from anti-immigrants. Having to work twice as hard as everyone else, and be twice as more qualified, for the same jobs. Having to learn and speak English.
The U.S. provides tremendous opportunity to reinvent and recreate ourselves, but that opportunity is often met with tremendous resistance, and frequent isolation. Maybe migration is beautiful but only for those who benefit from it. The cuisines, languages, and cultures that other immigrants bring with them enrich the United States, and the immigrant experience. The cheap and expandable labour–well, we know who mostly benefits from that.
What do you think?