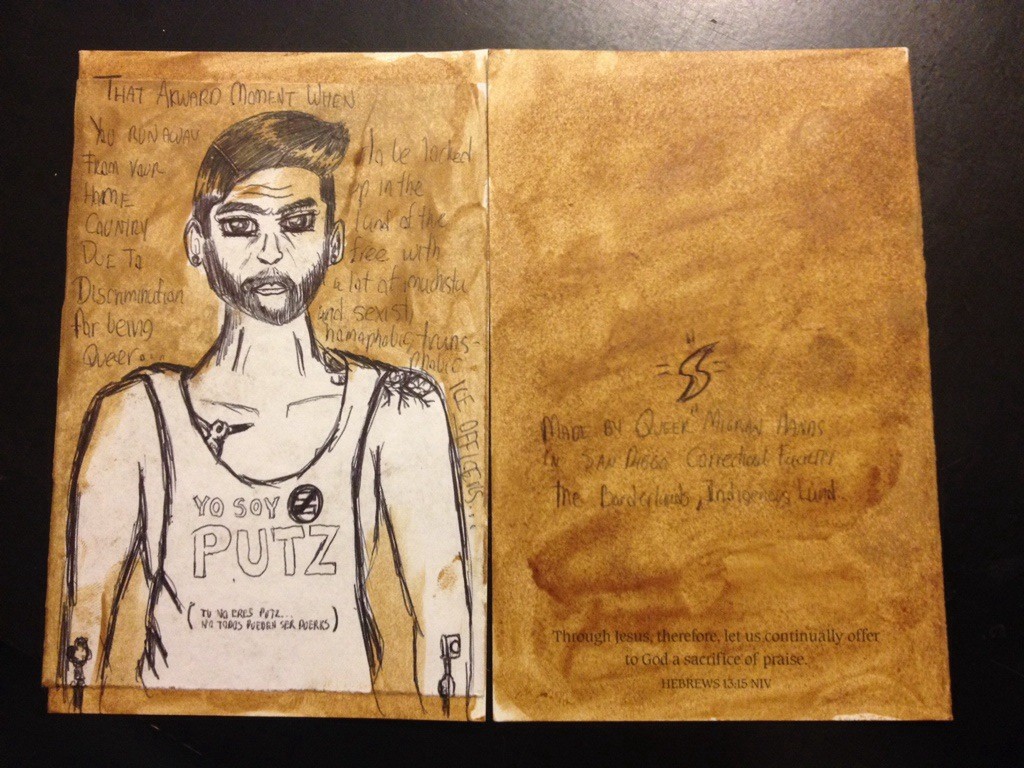 Full text: "That awkward moment when you run away from your home country due to discrimination for being queer…Only to be locked up in the land of the free with a lot of machista, and sexist, homophobic, transphobic ICE officers." – Alejandro Aldana
Yesterday, I received this bittersweet postcard from my dear friend, Alex Aldana, who is currently detained at the Otay Detention Facility in San Diego.
Alex lived with his family in California for ten years, where he graduated from high school and worked hard to make his community a better place. He left the U.S. to go back to Mexico five months ago to care for his sick grandmother.
Over these past few months, Alex discovered how crime and corruption made life particularly difficult for the LGBTQ community in Mexico. In Guadalajara alone, 128 gay and lesbian people have been killed, and none were reported as hate crimes. Now, Alex wants to return to California, where his mother and sibling reside so that he can continue to take care of them, and lead a life that does not entail the amount of violence he would face if he remained in Mexico.
Even with the heightened standard for credible fear instituted by the new Lafferty memo in light of the numerous claims for asylum from Mexico and Central America, Alex has already passed his credible fear interview. This means that according to Immigration and Customs officials, Alex has established a clear and convincing chance of winning asylum before an Immigration Judge based on his fear of persecution in Mexico. According to ICE guidelines, Alex should be released from detention to pursue his asylum case as he is neither a threat nor a flight risk. However, he has been detained at Otay for more than a month for no real reason, and subjected to abuse inside the facility. 
Sign the petition to demand that ICE release Alejandro (Alex) Aldana.
Reportedly, hundreds of families who were unjustly deported or were forced to leave the U.S. are coming back home from South America, Central America and Mexico on March 10, 2014 through the San Diego, Tijuana border. Some of these families include the Valencia family, who lived in Arizona for 16 years and built a life there until they were forced to return to Mexico after the father was deported from the United States in 2010.
The protest, organized by The National Immigrant Youth Alliance (NIYA), is the third "Bring Them Home" action, which serves to highlight the 2 million deportations under the Obama Administration, and reunite families.
Dulce Guerrero, an undocumented organizer from Georgia, is in-charge of this campaign. She can be reached at dulce@theniya.org
A generous organization decided to pay my way to the annual American Immigration Lawyers Association (AILA) conference in San Diego this year and give Netroots a skip since there's not much to be gained from attending the latter besides forming your own panels outside of predefined spaces. I feel like I'm moving both up and forward in life and that illusion offers a good feeling.
As a member of AILA and aspiring member of the legal profession, I'm totally thrilled about the opportunity to meet and spend the weekend with some of the best minds in the field. The agenda looks fantastic and I would be dumb to pass up an opportunity to see Assistant Director of ICE, John Morton, give a keynote in front of 3000 immigration professionals who are generally not very happy with the administration. The bigger question is whether Morton as an AILA keynote speaker represents an endorsement of Obama's reign of terror against immigrant families. But I'm more interested in meeting new people and learning things that make me a better advocate for our communities.
Sometimes you alter or eliminate the rules of the game in order to win and other times you beat the system with its own rules and I'm not going to complain about either tactic as long as it adds up to winning.
As usual, I can't decide on whether to attend the Asian or LGBT interest dinner that is scheduled at the same time but I think good food and good company is a bigger priority than figuring out what pre-defined category I should put myself into for a particular evening.
Holler me if you are going and want to meet up!