The party over executive action seems to have fizzled out even before it started.
As expected, late Monday, February 16, Judge Andrew Hanen issued a temporary injunction against the implementation of two parts of President Obama Administration's executive actions on prosecutorial discretion in immigration: an expansion of the current deferred action for childhood arrivals (DACA) program, and a program for the parents of U.S. citizens (DAPA).
The federal district court did not decide on the constitutionality or legality of the programs, but rather, took issue with the fact that the Obama Administration had not followed proper procedures under the Administrative Procedures Act (APA), in rolling out the programs. The Justice Department is expected to appeal this ruling and to request a stay of the injunction so that the initiatives aren't stalled.
While much has been written about how Judge Hanen reached an erroneous decision when he determined that the federal government had to allow for a notice and comment period, no one is actually talking about the fact that the National Day Labor Organizing Network had filed a complaint requesting that the government engage in rule-making with regards to executive action, more than a year before the executive actions were announced. This was a request for formal rule making of the kind that Judge Hanen found lacking from the executive actions announced on November 20, 2014.
The government seems to have not responded to the NDLON complaint, and never bothered to publish a formal notice in the Federal Register when it did announce changes to its prosecutorial discretion programs. If they had, perhaps things would have turned out differently last week. Perhaps not. In any case, the Obama Administration has a major "foot in mouth" problem, and perhaps before embarking on future partisan events to drum up support for his programs, someone should ensure that the intern does send over a copy of the proposed rule change to the Federal Register.
What's next? Now that the brakes are on, the legal teams on both sides seem to be up against months, if not years, of litigation. That may bode well for the politicos, but not for undocumented immigrants who would have benefited from these programs.
Most talking points sheets say that people should continue preparing for the programs. Sure, that is true. But more importantly, the new enforcement priorities announced on November 20, 2014, remain in place. So if you think the Administration is still detaining and deporting people that it has no business doing, continue raising hell, and continue asking for a more expansive definition of discretion.
Related articles
Video Credit: The NIYA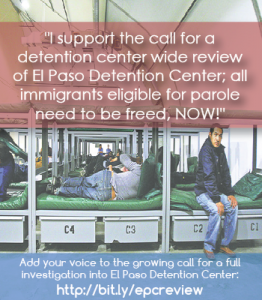 I don't know how Santiago Garcia-Leco managed to get detained, given he is eligible for Barack Obama's deferred action program. But inside the El Paso Detention Center, Santiago, a queer undocumented organizer, found hundreds of cases of asylum seekers who had won credible fear, but were detained for months to await trial. The National Immigrant Youth Alliance (NIYA), joined by leading civil rights organizations such as GetEqual, Texas Civil Rights Project, and the Detention Watch Network, is demanding a full review of the detainees El Paso Detention Center.
In a video released by the NIYA, Santiago reports that "when no one is watching, ICE does whatever they want." To give an example, he reveals how federal agents tried to get him to sign his own voluntary departure papers. Inside the detention facility in Texas, Santiago also found over 60 cases of individuals who have been granted credible fear, but denied parole into the United States, in violation of of Directive No.: 11002.1, as laid out by former ICE Director, John Morton. This directive went into effect January 4, 2010; however, the ICE leadership from the El Paso sector continues to ignore it:
"…[W]hen an arriving alien found to have credible fear establishes to the satisfaction of DRO his or her identity and that he or she presents neither a flight risk nor danger to the community, DRO should, absent additional factors, parole the alien on the basis that his or her continued detention is not in the public interest."
NIYA organizers state that "it is alarming to hear of numerous instances where immigrants are being detained at the El Paso Detention Center despite the fact that they do not pose any security risk, are not a flight risk, and their detention is contrary to the public interest."
This is not the first time that NIYA has infiltrated a detention center to uncover rampant abuse of detainees and immigration procedures. Marco Saavedra and Viridiana Martinez from the NIYA infiltrated Broward Detention Center in Florida last summer. Through that action, the NIYA found hundreds of cases of abuse, which led to the release of many detainees and a Congressional letter demanding review of the facility.
After NIYA revealed the identity of the infiltrator, ICE at El Paso Detention Center kicked Santiago out of the facility. If Santiago, who does not have any paperwork authorizing him to live in the U.S., can be released into the general population, why not release all the parole eligible people?