Alright, so many if you want to know how it was to be back in Fiji, what we all did, where we went, and curse us for telling you about the wonderful, life-changing times we had while we were there.
We landed at Nadi International Airport on Sunday morning. The air was fresh and crisp–though it would soon be replaced with the smell of burning things so characteristic of Fiji.
When you land in Fiji, you've to buy the duty free alcohol at the airport before you head out to the wonderful tourist islands. The price of alcohol on the Mamanuca and Yasawa Islands is outrageous–though Fiji is still relatively cheap as a vacation spot, when compared to the Caribbean and other islands in the vicinity. Nothing beats Bounty Rum though: It recently won Best Rum in the World. And at $35 FJD for a large bottle, you cannot go wrong.
You should also buy bottled water before heading anywhere off the main land. I am principally against bottled water, and tap water is fine on the main land, but you do not need to get sick while on the offshore islands. Bottled water is also quite cheap in Fiji, and they have local alternatives such as Aqua Pacific to the awful FIJI water.
Despite the relatives belatedly imploring us to stay with them, we had booked a couple days at one of the tiny, off-shore islands that I had visited as a kid: Beachcomber Island. Owned by an Irish businessman, Beachcomber has a reputation for being a party island. The cost for a beachfront bure for a couple days was reasonable, so we settled on it as a way to recover from jetlag. Other reasonable islands in this group include Bounty, and Treasure Island.
It turned out to be an excellent choice. Getting to Beachcomber was not hard from the mainland. We were greeted with the customary Fijian song and dance, and checked in to our oceanfront bure without any problems. Then, we slept off the jetlag.
The view was gorgeous, especially since it was not even one of the better islands. We could walk around the entire island in 10 minutes. The water was also warm, even though it was technically winter in Fiji. We had access to water sports activities such as snorkeling, jet ski, tubing, and parasailing, at an additional cost. We really wanted to go parasailing, however, it turned out that the boat was in repair.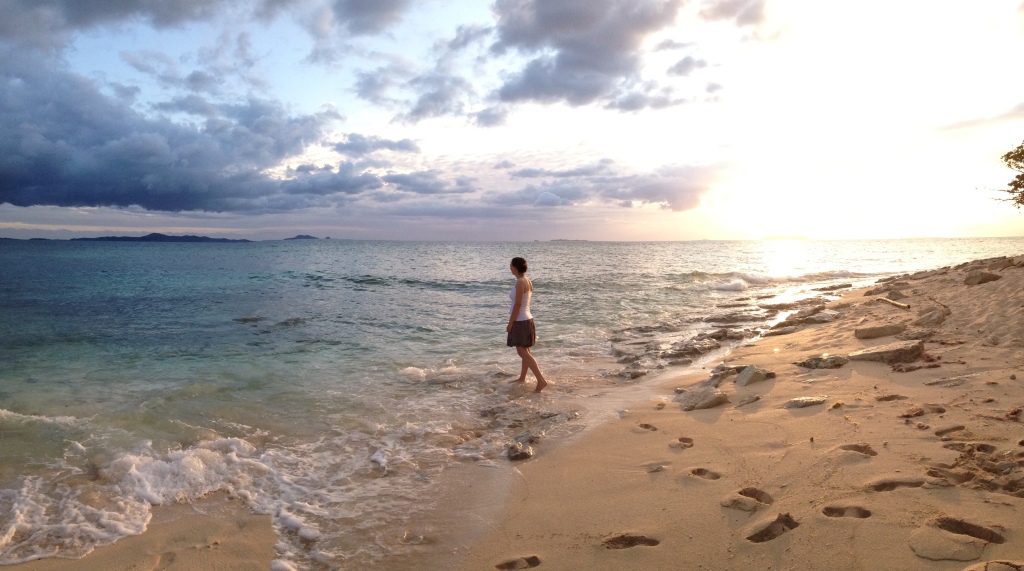 The highlight of our time at Beachcomber was the wild kayaking to an isolated sand bar a couple kilometres from the shore, in the middle of nowhere, at sunset. Of course, it was my partner who proposed this. Video forthcoming. The kayak trip gave me some ideas for my scuba gear product reviews website.
Beachcomber was an excellent starter choice to recover from jetlag, as I would find out later, because staying with family on the mainland would have led to certain death by alcohol poisoning.
Next up: Our adventures on the Coral Coast
It's hard to imagine how a fish can survive without water, how a plant can live without sunlight, how a human can survive without air.
Actually, it is rather impossible. And I can no longer do it.
I went home on August 22, 2014, for the first time in 14 years, 9 months and 9 days.
Lets just have that sink in.
I went home after spending 14 years, 9 months, and 9 days in a prison tantamount to hell. I am sure people have been imprisoned for far less and in far more horrible conditions. But that doesn't begin to change that it was akin to hell. And it was wrong.
People leave their homes for many reasons. Some seek employment opportunities abroad. Some are trying to escape persecution. Some decide that they need to experience another culture. And some are forced to do so, for no conceivable reason, and have no real choice in the matter.
There's no point in re-hashing why my parents moved to the United States. To be honest, they tried to go to Australia and New Zealand for the longest time, but could not make it those countries. I made the most of what was a horrifying third-choice, and learned one very vital lesson: Don't move your child to a new country when they are 15, unless they are dying. Because, it is essentially, akin to killing her or him.
But enough about the nightmare that is the United States. What I do want to talk about is the utterly marvelous, thrilling, spectacular, life-changing, journey home.
It has taken me a long time to write this because I've been lost for words. That doesn't bode well for a writer or aspiring novelist. Yet, it is hard to write about magic.
Therefore, I'll start with the photos. Now, photos cannot quite capture freedom. Nor do words. All I can say about freedom is that it is brief, it is beautiful, and everyone should be able to have a glimpse of it, if not feel it throughout their lifetimes.
The other thing about freedom–a secret that only a former prisoner can attest to–is that you don't really feel it until it is gone.
The Commodore needs to listen carefully to this economist:
THREE things saved Fiji from complete disaster after the 1987 and the 2000 coups: the private sector, sugar and tourism, economist Dr Biman Prasad said yesterday.

He told the Training and Productivity Authority of Fiji's Better Business Conference at the Novotel Convention that Centre that the private sector remained resilient.

"It is likely to remain the hope for a good economic recovery in the future," Dr Prasad said.

"Many have suffered losses but have continued to operate in difficult conditions."

Dr Prasad added that economics and politics were inseparable and offered some advice to the government.

"The government must understand that it is in control, it is running the country without any opposition," he said.
H/T: Fiji Times
The problem is that Commodore Bainimarama handles the monetary policy (the Finance portfolio) for Fiji even though he has little clue or training in economics. Reports of military hoodlums beating up random people in the streets does nothing to promote tourism or private sector confidence. And as a primary product, sugar can never really do much to change the economy of Fiji from one based on primary production for Western consumption to one that brings about greater economic independence.