Yesterday, we had a paparazzi wedding ceremony at the Lutheran Church of Reformation in Washington D.C.
It was nonetheless, lovely to share our love with so many people, including all our badass friends from the National Immigrant Youth Alliance, and the same-sex binational couples from Immigration Equality who have so long been denied due process and equal protection under the law.
Special thanks go to Emiliano Rojas, son of Claudio Rojas, who is the Cake Boss of the movement and stayed up all night making us a beautiful wedding cake with the help of Cristobal Lagunas-Alvarez, from DreamActivist Massachusetts. We are still eating through it, but you can have a photo.
We'll be getting legally married in a private ceremony in August.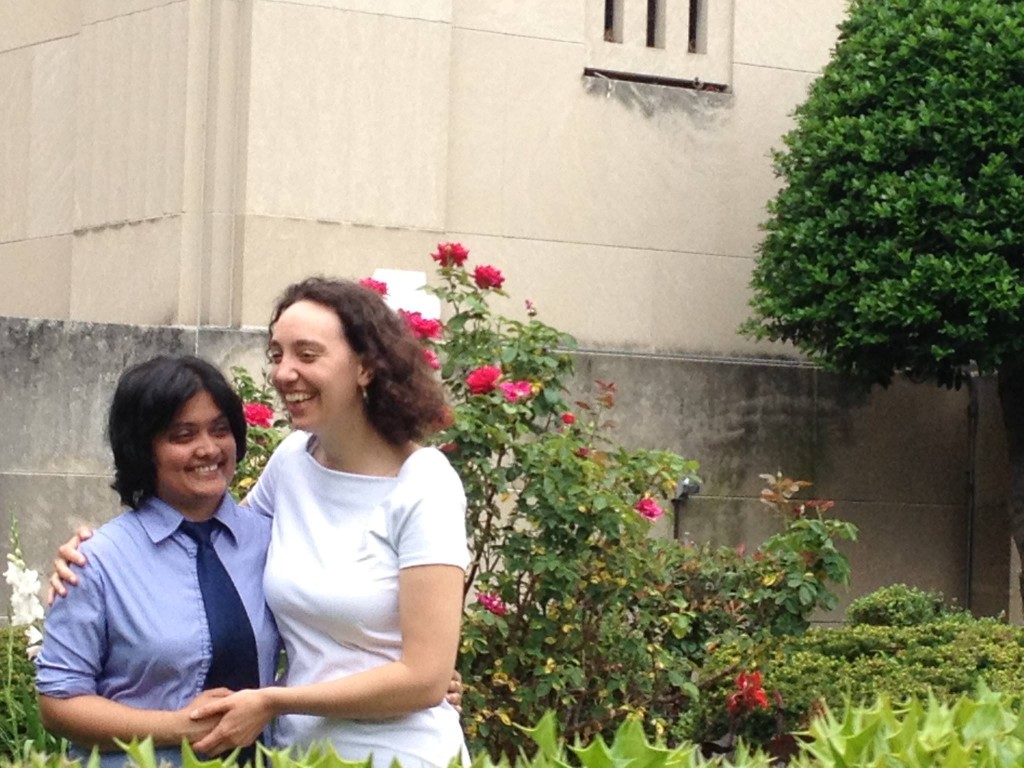 Thank you so much for making this day so wonderful and special.
Now Lindsay can work towards getting her Fijian citizenship.
Some media articles about the wedding are here:
P.S. Please email Lindsay Schubiner, lschubiner@gmail.com, for media quotes and comments as I'm busy studying for the bar exam.
P.P.S. Please send us all photos of the wedding ceremony!
Photo Credit: William Anderson, Benito Miller and Immigration Equality
I was at an airport. I couldn't find my ticket. I didn't know my airline, let alone my confirmation code. I frantically looked at my clock but couldn't make out the time. And I seemed to have misplaced my iPhone so I couldn't look up any flight information.
The TSA officer shot me a puzzled look. "Where are you trying to go?"
"I don't know." I whispered. I had forgotten. I couldn't remember how I got to the airport and where I was going. I just knew I had to be somewhere important and that I had to get there soon.
I picked up the scent of fresh linen. And then, it happened. I could hear her hushed, whispered tones in my ear telling me not to be late for our wedding.
"I've never missed a flight before. I'm not going to start now," I replied.
Then, she asked me to travel safely. I had forgotten everything else.
"Wedding. I have to go to a wedding. My wedding." I muttered, at no one in particular. And it was in a different country. I frowned. It made no sense for so many reasons.
I tried to recall how she looked. Maybe that would give me some clue as to where I needed to be. My mind drew a blank.
"You are getting married and you don't know where it is?" His tone was incredulous.
Next, I found myself on a bed. In a sleepy haze, I only needed to ask myself one question. And it wasn't the one asked by the TSA officer.
"You are still undocumented," I said out loud to myself. That would mean I couldn't fly out of the country. So there really wasn't any wedding to attend.
I turned around and went back to sleep, satisfied and reassured. I didn't need to be anywhere else but in my bed underneath the covers, sleeping soundly.