Update: #DREAM9 Detained at Eloy Detention Center. Make The Call To #BringThemHome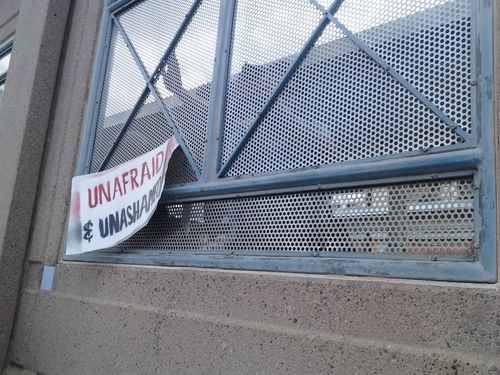 In a radical, transnational action at the U.S.-Mexico border yesterday, 8 "dreamers" walked up to Customs and Border Protection (CBP) and asked to be admitted to the United States.
The initial DREAM 8 grew to DREAM 9, when Rosie Rojas, formerly from Tucson, Arizona, joined the action and presented herself to CBP. She went back later but thirty other formerly deported dreamers showed up, asking to come back home. CBP did not know how to react.
The DREAM 9 requested humanitarian parole as formerly deported Dreamers who should never have been deported or forced to leave in the first place. CBP waited until late at night to take them to the Florence Detention Center.
Update: As of now the 9 are at Eloy Detention Center. Keep making those calls.
You've to wrap your head around this one — and not just the political ramifications.
Three undocumented youth leaders left the country WITHOUT a visa, WITHOUT any sort of advance parole.
They brought back SIX other undocumented persons who had left the country previously or had been deported.
They ALL entered LEGALLY.
And now, they will be organizing hundreds of other detainees at Florence Detention Center in Arizona, getting legal status for many others while we make the calls to ERO and ICE to let them out of detention.
Why did they take this radical action? "Millions of families like mine have been separated for far too long," Lizbeth Mateo wrote in a blog piece published by The Huffington Post on Monday. "I waited 15 years to see my grandfather again, and to meet the rest of my family."
Put simply, the fight to end deportations does not end after deportation. We would not need to take this bold step if the Obama Administration was not deporting and ripping apart families every second at more than 1000 deportations per day. We would not need to take these actions if people were free to see their families on both sides of the border. It is time to bring them all home — they deserve to be home!
How You Can Help
Join the real immigrant rights movement in one of the solidarity events happening across the country in Boston, Massachusetts, Cincinnati, Ohio, Pomona, California, Chicago, Illinois, Asheville, North Carolina. More will be added in the coming days.
Sign petitions to bring home the other dreamers accompanying the trio:  Adriana, Luis, Maria, Claudia, Ceferino.
This entire effort has not been funded by anyone but the grassroots. Donate to help #DREAM9 pay for calls to and from their detention center. You can now also make a tax deductible donation online to NIYA.
Call your Congressperson and ask them to sign on to a letter of support being circulated in support of the DREAM 9 now.
If you support immigrant rights, you support our individual and collective agency to make decisions for ourselves and take the action necessary to stand up and fight back when our communities are under attack on both sides of an arbitrary border.
The promise of immigration reform — is simply an empty promise. While we sit and wait for Congress to act, families are being separated every second by Obama's mass deportation and detention policies.
Bringing them home is just a start. I see the campaign as a BOLD intervention into the pervasive duality and dichotomy of everyday discourses regarding immigrants and immigration reform. The transnational border action challenges the dichotomy created between us and them, between legal and illegal, between "dreamers" and our parents, between home and not-home, between a "path to citizenship" and rights for all. Disruption of the hegemonic narrative is not just necessary; it is emancipatory.
After the disruption, is when the real work begins of building bridges, which for me is not a shady compromise but a metaphor for fluidity, change, channeling, multiple levels of positioning that culminate into a meeting point: we've to stand up and fight back against punitive policies, secure our own communities, reunite our own families.