Public Transit Fuels Political Ad Battle Between Pro-Israel and pro-Palestine Groups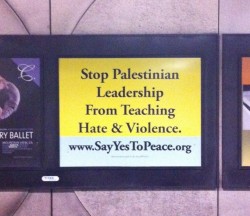 The debate over Israel and Palestine has spilled over to our university senate meetings, corporate board rooms and now municipal train systems.
The Bay Area Rapid Transit (BART) system has taken on the fun task fueling a political ad war between pro-Palestine and pro-Israel advocacy groups, making revenues out of a serious political crisis.
The battle over the Middle East transit ads has been brewing for a while.
Last month, BART took down posters from pro-Israel group Stand With Us that said "Stop Palestinian Terrorism." The ads were put up in response to a political ad put up by the Committee for a Just Peace in Israel and Palestine that said "Be on our side. We are on the side of peace and justice" with a reference to U.S. military aid to Israel.
Stand With Us came back with this version that omits the word "terrorism" and hones in on the Palestinian leadership.
Clever, since now both Stand With Us and BART can claim that the ad does not attack Palestinians per se but their leadership.
Of course, it is still disparaging and distasteful because it is specifically targeting a particular group as hateful and violent. Just to draw a parallel: Imagine an ad targeted at Israel with similar wording: "Stop Israel From Teaching Hate & Violence." BART officials would be called Nazis and and antisemites in no time.
There's no question that the political ad is legally protected by free speech. However, it does violate BART'S policy on advertising by being disparaging and demeaning to a particular group.
BART reserves the right to take down ads at any time. Let's call on them to exercise that right: Tell BART to do the diverse and tolerant Bay Area community a favor and stop fueling the political ad war.
Winning this and similar campaigns depends on our ability to quickly call on thousands of supportive folks like you. After signing the petition below, please click here to follow us on Facebook – just click 'Like' at the top of the page.
Photo Credit: Nathaniel Whitmore